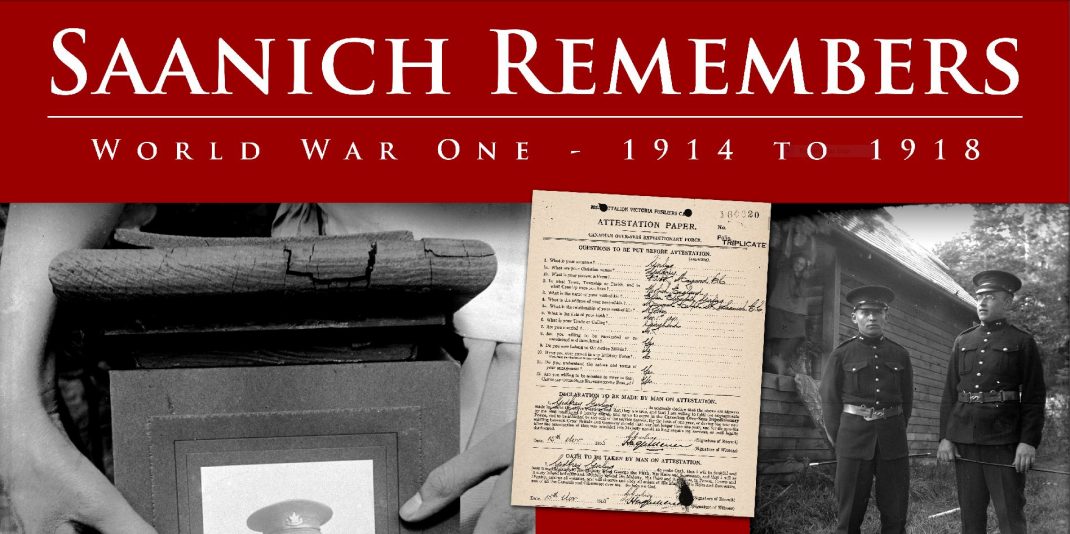 Since incorporation on March 1, 1906, Saanich has become a major residential area in the Capital Regional District. The history of Saanich and its pattern of settlement are evident in many of the old buildings and structures located throughout the district.
Today, Saanich is the largest municipality in the Greater Victoria area with a population of 114,000 people but prior to World War One Saanich was a rural community with fewer than 5,000 residents, many of whom were new immigrants who had arrived from the United Kingdom between 1908 and 1913.
When war was declared in August of 1914, Saanich men were anxious to enlist and by the spring of 1915 were joining other Vancouver Island residents on their way to Europe.
With the men away, Saanich women were not only active in raising funds for the war effort but were also running the family farms.
As casualties in Europe mounted and the sacrifices of Saanich residents became known, the municipality began to compile a Roll of Honour.
The Saanich Honour Roll is a hand drawn document which includes the names of 355 Saanich men and women who served in the war and it forms the basis for the Saanich Remembers World War One project.
Unfortunately, the Honour Roll was never completed and spaces were left to add more names as needed.
The goals of the Saanich Remembers World War One project are:
1.
complete the Saanich Honour Roll
2.
create a research file for each Saanich WWI Veteran as a permanent resource in the Archives
3.
learn about the impact of the war on the community
4.
involve Saanich residents in the project as volunteers
Research to date has involved compiling names from the Honour Rolls at local churches, schools, museums, and archives.
For each Saanich soldier we have created a file and – with the help of volunteers – will be finding their attestation papers, service records, information about their family, and life before and after the war.
These records will form part of the permanent collection at Saanich Archives and will be a resource for future generations.
Information will also be added to the soldier's database on A
City Goes to War
website. The project is being promoted in the community through a display banner, poster and exhibits.
A large exhibit planned for August 2014 at the Cedar Hill Arts Centre.
If you would like to get involved in this project as a volunteer, please Contact Saanich Archives by email archives@saanich.ca or phone 250-475-1775 ext. 3478 if you would like to help
SAANICH ARCHIVES 3100 Tillicum Road Victoria, British Columbia, Canada V9A 6T2 Tel: 250-475-1775 Email: archives@saanich.ca Web: http://saanich.ca/archives